A few months ago, I was delighted to find solo-karaoke-rooms in Hongdae, but I recently realized that there is another type of karaoke room called "Coin noraebang." (Norebang=Karaoke room). As a karaoke-lover, I had to try this out.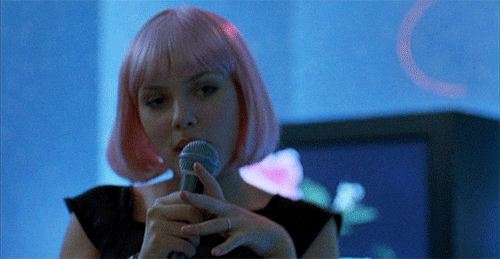 What does it look like?
In Korean arcades, there are always one or two phone-booth-style karaoke rooms, but coin noraebang is a place with just those tiny singing booths. There are about 20 rooms which can fit 2-3 people each.
Inside the room, there is a flat screen tv with one karaoke book, one karaoke remote control, and two microphones. Under the karaoke system, there is a coin and bill slot.
How much does it cost?
-The smallest payment you can make is a 500 KRW coin, and with that you can sing two songs. You can also add 1,000 KRW, 5,000 KRW, or 10,000 KRW bills.
-The machine does not provide change, so only add what you need.
-The price may fluctuate depending on location and size of the room.
-There are coin/bill exchanging machines outside the rooms.
How is it different from other norebangs?
-Some places are open 24/7.
-They tend to be located on basement floors.
-There is no smoking or alcohol allowed.
-You have to test your luck to see if you can find any empty rooms.
-On a busy weekend, you may not find any available rooms.
-The rooms are tiny, with no table and one small bench.
-You pay for each song that you sing.
-You can take your time choosing each song.
-You won't be rushed to finish a song quickly or pressured to stay longer because there is no time limit.
-Many people seem to come here by themselves to practice their favorite songs!
-Each room is visible from the outside because others have to see if it is empty or not.
-The secret to their cheap price may be the low quality music videos.
Where are they located in Seoul?
Super Star (코인노래연습장 슈퍼스타) : A chain coin karaoke room located in Gangnam, Hongdae, Shillim, etc.
Gangnam: From exit 11 of the station, take a right at the second street and take a left on the first street. It will be on your right. 4th floor.
Hongdae: next to "the park" in the central area of the neighborhood. B1 floor.
Shillim: From exit 2 of the station, walk straight for a few minutes. It'll be on your left. B1 floor of Jaws Ddeokpokki. If you see McDonald's you've gone too far.
Coin Su Noraebang (코인수노래방):  A big karaoke chain's coin karaoke version. Located in Hongdae, Shinchon, and Noryangjin.
Hongdae: On the street with "the park" in Hongdae. Across from ZARA.
Shinchon: From Shinchon Station exit 1 go straight. Make a right turn on the second street after you pass Hyundai Department Store. You will soon see a park. From the park, you can find the Coin Noraebang on the fourth floor. The third floor is a normal karaoke that you pay by the hour.
Noryangjin: From Line 1 Noryangjin Station exit 2, go down stairs, and cross the streets towards a yellow sign that says "Seed to Cup." Make a left in front of the store. You will see McDonald's on your right. Make a right after McDonald's. Before you see the next cross-section, you will see the Coin Noraebang on your right. It is located on the basement floor.
---
From what I've found there are several more in the Shinchon and Hongdae area, two in Hyehwa, few in Suyu and Mia, but none in Myeongdong at this point. Maybe Myeongdong is too expensive to manage this business.